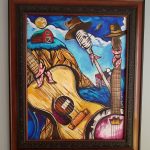 Rob Cashin
Participant
Hey Mike … just had to say how awesome this lesson was (and the previous). It's just the kind of thing I've beeen looking for for a long time .. show me the position to work out of, and build the licks. I knew it was there in front of me, but just didn't have the time or patience or confidence or ear or SOMETHING. You nailed it for me.
Seems like the lights are going on for me!. And those high licks are some of my favorites!
Great site. Found you on Youtube and I'm so glad I did!